Those who know me, know that December is usually ridiculously busy – dashing from one place to another, many many festive performances and singing leading events, from school productions and massed choir events to performing all over the place and leading the Easingwold Lions Carols in the Marketplace….all of which I love doing.
This year had to be different.
But I'm afraid, not much quieter!
Singing For All Advent Singalong
As part of a quest to raise awareness in (and some funds for) my beloved Singing For All, I decided to perform a song every day in December as a "Singing For All Advent Singalong" challenge! I haven't missed a day so far, and plan to continue until the 24th ; songs so far have ranged from the Mince Pie Calypso to Mary Did You Know, via Deck the halls, festive mash-ups, and many more….and more to come! They are all available to watch any time on You Tube or Facebook, and most days I also include a little taster of the Singing For All experience from the comments book. The virtual busking hat is here.. Here's my favourite so far, a looped up arrangement of "God rest ye merry gentlemen" from December 8th.
Community Christmas-ONLINE
One of the highlights of my year is usually my concert at Easingwold Galtres Centre, with performances from myself and Malcolm, my singing students, and Easingwold Community Singers and Singing For All. This year, I did my best to create an online version of the event! Singing and piano students prepared video performances, SFA and CSO singers stepped out of their comfort zones to send me video and audio recordings, a singer's kind parent(who happened to be a tech expert!) stepped forward to host the event and take over the technical side, and we had a concert!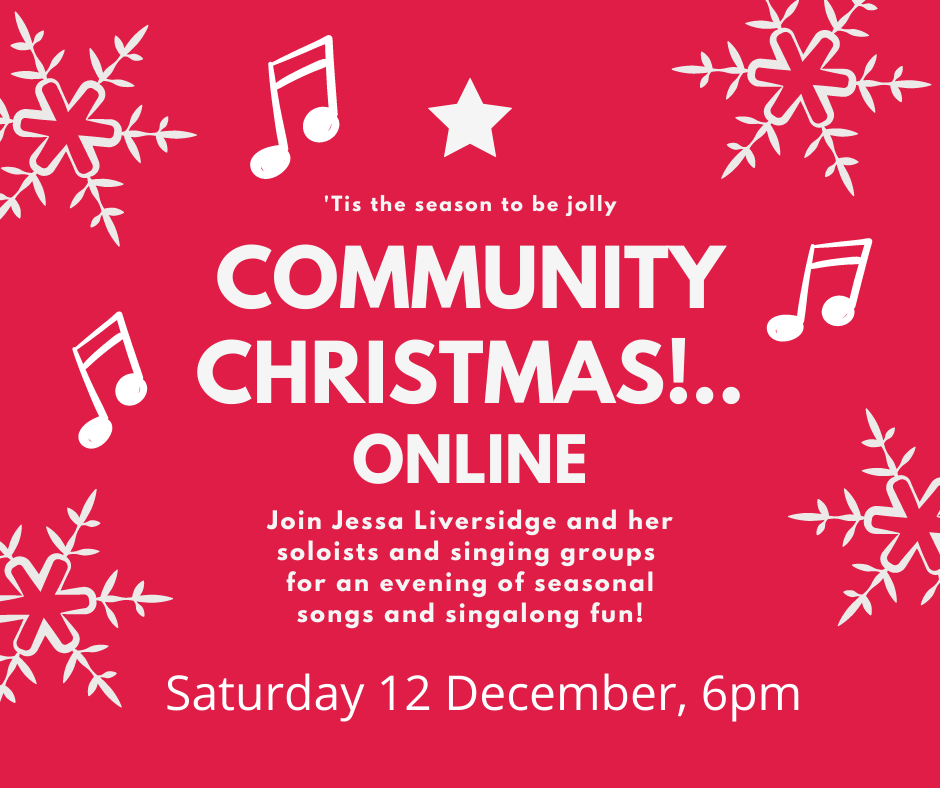 There were laughs, a few tears, festive songs a-plenty and many many lovely comments from participants and attendees. I felt quite overcome at several points in the event, thinking of the journey we have all been on this year and the loyalty shown by my students and singers that has helped me carry on, even when I have struggled.
Filming for virtual events
I have been lucky enough to be involved in a couple of really special virtual events this Christmas.
When I got a call from Big Ian a couple of weeks ago, I was thrilled to hear about his latest idea and bit his hand off when he asked if I would like to be a part of his "St Leonard's Hospice – I led the York Civic Youth Choir at the York event, conducted my Community Singers at the drizzly Easingwold service, and performed 2 songs myself at the Selby Abbey one. So when Sue got in touch and asked me to be a part of this year's virtual service, of course I accepted. After months of singing at my screen, you can imagine how I felt to sing in the beautiful setting and acoustics of Selby Abbey, accompanied by Malcolm on the grand piano…very special.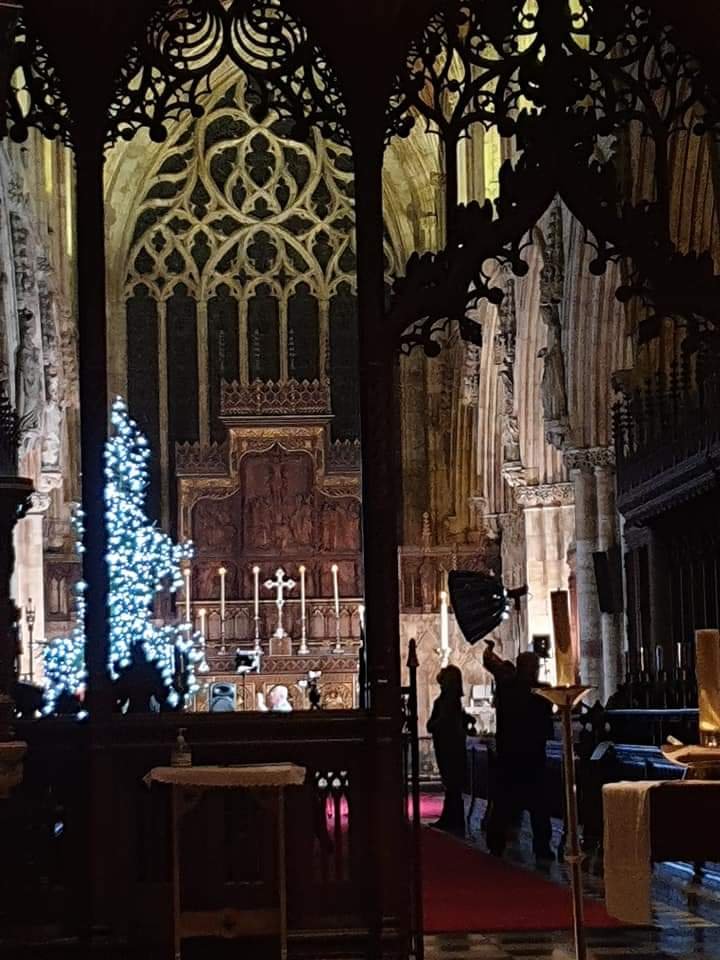 The service is now available to watch at any time – I would recommend watching the whole service, it is really very moving and beautifully put together. If you want to find my songs quickly, they are around 7 mins and 22mins in.
An actual Songbirds performance – to real people!
I still can't quite believe that on Sunday 20th December, Malcolm and I will be performing "Songbirds" to a live audience at The Joseph Rowntree Theatre. This show was first performed a year ago, then we only got one more performance in (at Helmsley Arts Centre) before "all this" happened. We were booked in to perform at the JRT in April – but that was not to be. I did a solo online stream on You Tube in April, then Malcolm and I did a highlights of Songbirds live Facebook stream in July….but there is nothing like performing live in a theatre and we can't wait! Performing a show on 20th December which is not Christmassy at all will be quite strange but refreshing in a way….and we do have an extra song planned which will be a nod to the time of year without departing from the show's theme.

Half the (very limited) tickets are sold, and all the safety procedures are in place…. here's the link if you would like to snap up any of the remaining seats!
https://www.josephrowntreetheatre.co.uk/whats-on/all-shows/songbirds/1373/#details
…and I'll finish with this video of myself and Malcolm and one of our favourite songs to perform at this time of year – "I will watch you grow" from Rock Nativity.
More Singing Larks will appear in 2021! A Merry and safe Christmas to all .
Jessa xx