Although I have been really busy throughout this year, despite all the lockdowns and restrictions, trying to keep all my groups going, teaching my students online, and doing my best to find performing opportunities (even if that is confined mainly to fields!), I am so pleased that I have made time for some quality lockdown learning.
To be honest, in the first few weeks of "all this", I learned more than I have for years! In the space of a few weeks, I learned how to live stream, run choirs and lessons on zoom and You Tube…..soon after, I was able to do (very basic!) video and audio editing, broadcast live on Facebook and You Tube at the same time, and even use live looping!
But, in addition, I have made time for some mind-blowing training with these inspiring folks….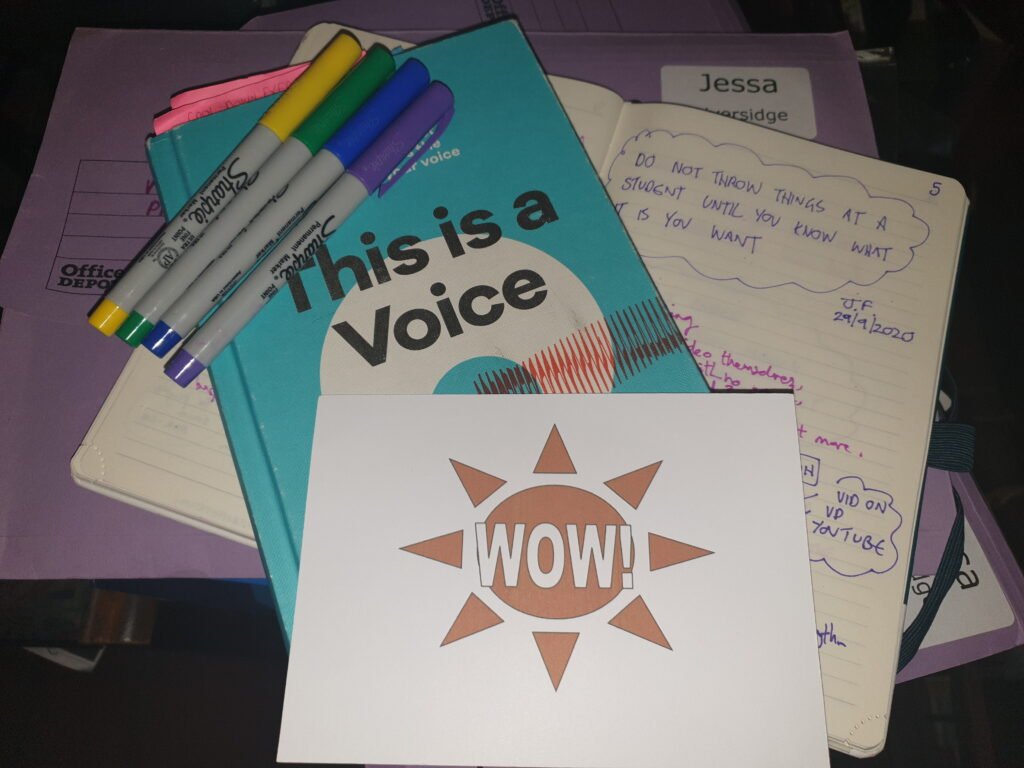 I would not be exaggerating here to say that Vocal Process has changed my life!
In the past few years, my skills, knowledge and confidence in myself as a singer, singing leader and performer have been transformed through taking part in their intensive courses – they call them "retreats", and for good reason. My everyday life is packed with many different and varied roles, and, much as I enjoy every one of those, it is hectic! "Inside the singing voice", "The performers' retreat" and "The musical directors' retreat" gave me time and space to slow down and focus on one thing only, while learning SO much about voices. (including my own!)
Like many of us, Gillyanne and Jeremy from Vocal Process have had to adapt and change how they do things this year, and have taken all their training online, which has been a huge success. The thought of taking part in their Online Singing Teacher Training in the Summer was a little scary to begin with – I am easily intimidated by people with impressive lists of qualifications and experiences! But as soon as the course got underway, I realised I was in a safe space to learn, experiment, and grow as a singing teacher, alongside a wide range of teachers from different styles, backgrounds, and continents. What an amazing opportunity, which would not have happened in the same way in "normal" times. The VP courses are such a positive learning experience, that they always make me hungry for more – so when the opportunity came to continue to do Week 3 of their online singing teacher training in September, as well as several "pop-up' courses on different aspects of singing, I jumped at the chance. I will always be grateful to #teamVP for the inspiration, encouragement, and the gang of like-minded friends I have made through their sessions, including Vocal Intuition and Singing it Back. (#choirleaderinakayak, mermaid friend of #fieldsinger !)
Embodima
It was through a Vocal Process "Let's Talk" event in London just over a year ago that I first met Nicola Harrison, where she gave a fascinating intro to her Embodima research. The last 3 Sunday mornings I have spent in Oxford (virtually of course!) with Nicola and 5 other singing teachers, learning about Embodima and learning to use this carefully researched concept in my singing and teaching. I really believe this is a liberating pathway that I know will help set singers free from some of the confusion and over-thinking that sometimes bogs us down. Let singers sing!
Vocal Health First Aider success!
I have long been an admirer of Jenevora Williams, having used her book as the go-to since I started teaching singing one to one. (Anyone teaching young people to sing really needs to digest this – "Teaching singing to children and young people" – available on JW's website.) Early in the first lockdown I took an online seminar with Jenevora on vocal rehabilitation, which I found fascinating, so when, along with Stephen King, she set up Vocal Health Education and offered the vocal health first aider course, I was keen to be a part of this.
For the next few weeks, I spent much of my spare time at my laptop, watching the lectures, taking notes, and revelling in the wide-ranging learning, from medical learning about the systems of the body and possible voice problems, to the mind-body connections, mindfulness, and mythbusting.
An entirely holistic view of the voice that felt so right to me. So interesting and all so relevant to all of my work with people's voices, and my own!
The end of course assessment was online, and I was delighted with my result in that….even though part of me (the perfectionist part!) wanted to resit the test to try and get 100% . The final part of the assessment was a short interview over a video call – I was a little nervous beforehand but the interviewer put me at ease straight away and, after our brief chat with some interesting but not too scary questions, he pronounced that I had passed and duly sent my certificate and badge to be worn with pride!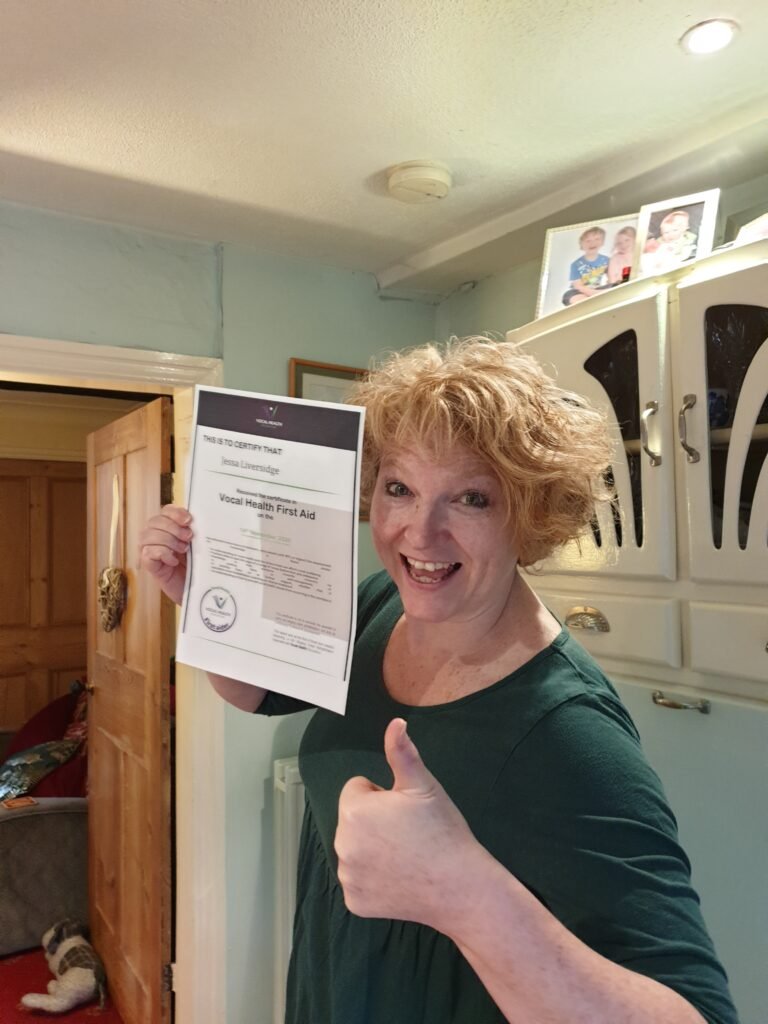 Why?
Why do I do all this? Some of my close friends despair when I tell them about my next course, knowing how busy I am and how wobbly I get sometimes. I have been working with voices for 25 years…..working on my own voice, teaching young people in schools, choirs, one to one lessons, working with adults in community choirs and musical theatre…..I have learned from so many inspiring teachers and singers over the years…and there is so much to learn. The more training I do, whether it is in person, live online, recorded webinars, even just networking and sharing experience in online groups such as the Vocal Process one or choir leader crews like The Creative Choir Leader, MD Brunch and Choirs Online, the more confidence and knowledge I gain.
I gain confidence in what I DO know and what my strengths and skills are, and understand better the areas I need to learn more in.
Nobody ever knows it all, and the professionals I admire the most are those who learn from others, including their students.
Every week I learn from the people I sing with! If you would like to join in with my sessions over the next few weeks, when we will be learning some gorgeous festive songs in preparation for my ONLINE COMMUNITY CHRISTMAS event on December 12th (more about that next time…), do get in touch via the contact page.
Singing really is a tonic for the body, mind, and soul, and I am so lucky to spend most of my week enjoying that tonic with so many lovely people.
I will leave you with this week's #fieldsing ….
Thanks for reading!
Jessa x