Singing Larks, Sunday 18th October 2020
For this first Singing Larks blog post, I should introduce myself. My name is Jessa Liversidge and I am a field singer! Yesterday I performed #inafield for the 30th consecutive Saturday, and what started as a replacement for the cancelled group singing sessions back in March has become an essential part of my week – however I am feeling and whatever else is going on, I make time every Saturday for a #facebooklive broadcast of a song and a chat. I have become quite accustomed to my new set of backing singers(the real songbirds!) and the broadcast is therapeutic for me as much as anything – if I get a few live viewers, that is an added bonus!
This week, I chose a song which is currently popular with my Singing For All groups, the Eurovision winner from 1982, "A little peace". The lyrics are so apt – "A little loving, a little giving, to build a dream for the world we live in…." All my field sings are available to view on my Facebook page or You Tube channel – scroll to the bottom of the page for all the links.
A lovely by-product of lockdown has been my "fields and lanes" collaboration with my better half, Mick Liversidge. While I have been singing in fields, he has been reciting a huge range of poetry down country lanes, and together we have put together a live performance of some highlights, performed as part of the Easingwold Community Library's "under the willow tree" programme in September. We hope to find more opportunities to spread the "fields and lanes" word in the Spring at some more outdoor venues. You can find all our poems and songs here.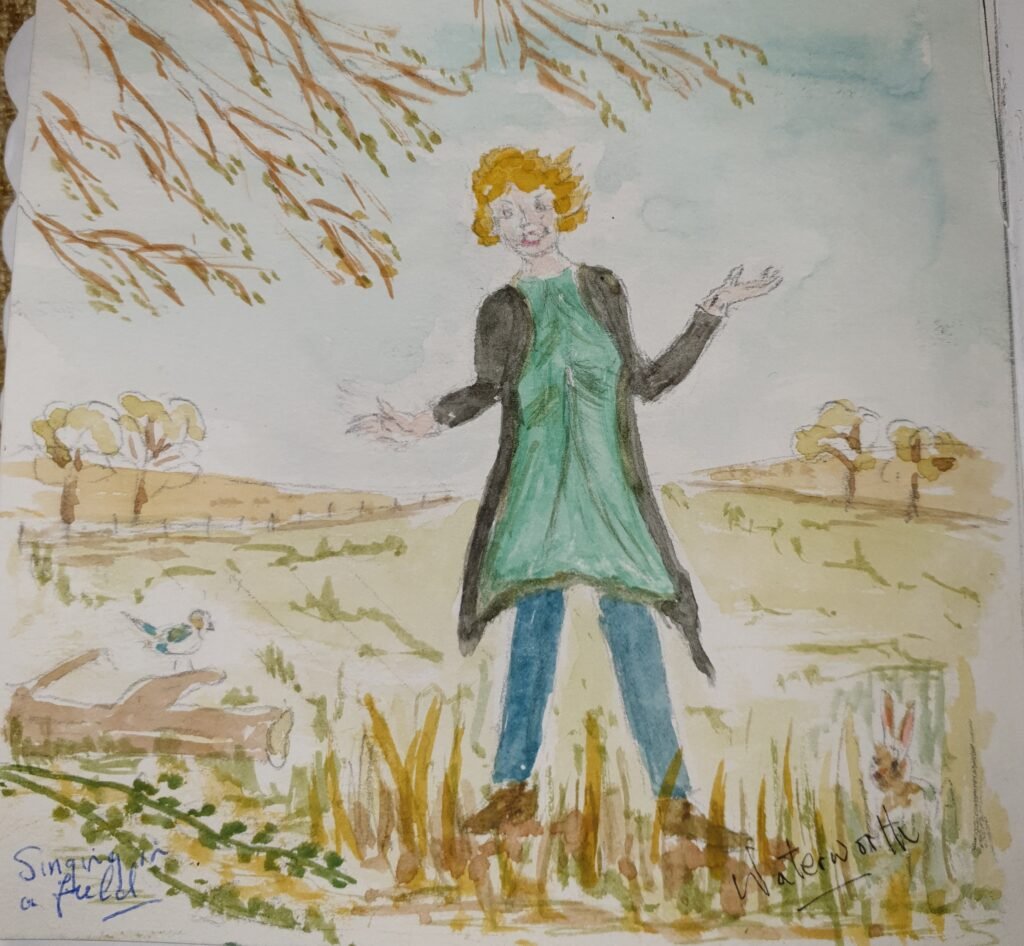 When I am not singing in fields, I have a busy and varied schedule which I will talk more about in future weeks – you will find lots of information about what I get up to in the various pages on this website. Each day holds the delights of singing for or with such a range of people, and for that I consider myself very lucky. From Singing For All, Community Singers, York Music Hub zoom choir and York Military wives to my talented singing students and amazing young musicans at Wigginton Primary. This week also brings rehearsal, as Mick and I take a performance of "fields and lanes" to our local theatre to help them test out their Covid-safe procedures. I will finish with a clip from our show, a song that resonates with many people who feel trapped or are facing struggles in their lives.
"I wish I could be like a bird in the sky , How sweet it would be if I found I could fly, I'd soar to the sun and look down on the sea, and I'd sing 'cause I'd know how it feels to be free." Billy Taylor