I have just noticed that I haven't posted on here since June…and it is now October….so it must be time for an update on all things singing, looking back at the last few months and forward to what's coming up.
LOOPY SONGBIRDS AT DURHAM FRINGE
Back in July, I had a great time performing at Durham Fringe Festival, with a new, solo, looped up version of my Songbirds show. In true fringe style, a power cut on the first day saw a change of venue, but I was back in the town hall by day 2, and enjoyed performing to new audiences. It was a new experience, accompanying myself for a full show, and incorporating looping into several of the songs – I also included one of my own compositions. You can hear that in the link above, and below you'll find some highlights of the first day.
SEPTEMBER LARKS
September has come and gone in a flash. Back on September 2nd, York Military Wives Choir joined nearly 200 singing sisters from other Military Wives Choirs to perform in a 10th Anniversary concert at Lincoln Cathedral. It was a great experience to conduct the massed choirs for one song, "Viva La Vida/Titanium".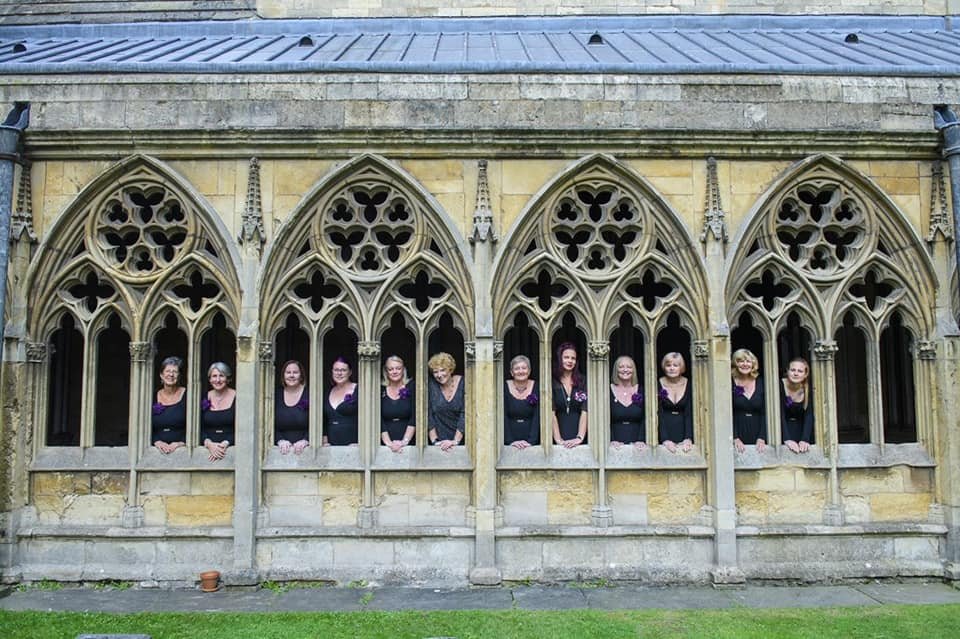 My Singing For All groups started with a performance the very first week of term, helped out by some Community Singers."A Night to Remember" at York Barbican will always be remembered for many reasons – as just as I was rehearsing my mixed group of singers outside, we heard the news of the Queen's death. The group valiantly carried on, and performed brilliantly in front of a large, enthusiastic crowd. I was so proud of everyone and was quite emotional afterwards. Here we are –
SINGING …WITH BIRDS OR BRASS
September has also been full of performance opportunities. Each Saturday, I continue to sing outside for my weekly #fieldsing (131 consecutive weeks so far!). On Saturday 24th, I had fieldsing, followed by a chilly busking slot in Easingwold marketplace as part of the Easingwold Summer of Music, then finally a performance as soloist with the amazing Shepherd Group Brass Band in their prom concert at The Galtres Centre. It has been 3 years since the last chance to sing with these wonderful musicians and friends, so it really was a special night. I absolutely loved singing some James Bond themes with them!
SOME ENCHANTED SONDHEIM
This past week, my focus has been on Some Enchanted Sondheim. Malcolm and I absolutely love working on this show! First devised in 2013, it has been slightly adapted several times since, and for this year's version we have added 3 new Sondheim songs, one of which I literally discovered only a few weeks ago! Last Saturday we played to a lovely, receptive audience at Helmsley Arts Centre and this Sunday we are headed to Theatre@41 Monkgate, York.
Where next for Songbirds and Sondheim? I have a few ideas and dreams…..time will tell if and when these turn into reality at any point!
The next few months hold more performances, many singing lessons, copious choirs…..lots of singing larks of different varieties.
Do keep an eye on my social media for updates – especially if you'd like to sing with me, or catch a performance soon.
Keep singing!
Jessa x